2022 Fife Community Car Show
Thank you to everyone that attended the 2022 Fife Community Car Show
The 2022 car show is in the books.  The weather was good, almost too good, boy was it hot!  The weather was not the only thing that was hot, so were all of the vehicles.
There were so many great vehicles, the judges had a difficult time.  Below is a list of winners for each of the categories:
| | | | | |
| --- | --- | --- | --- | --- |
| Catagory | Entry # | Name | Vehicle | Year |
| Best of Show | 132 | Dave Schneider | Porche 356 speedster | 1955 |
| People's Choice #1 | 158 | Troy Evans | Chevy C8 | 2020 |
| People's Choice #2 | 129 | Time Burrell | Pontiac Grand Pre | 1966 |
| Best Interior | 139 | Allen Wells | Ford Crown Victoria | 1955 |
| Best Paint | 110 | Dennis Williams | Chevy | 1957 |
| Museum Choice | 317 | Moses Tavares | Chevy Nova | 1968 |
| Police Dept Choice | 209 | Scott Scherbal | Ford Gallexy 500XL | 1963.5 |
| Fire Dept Choice | 168 | John Halberg | Chevy Nomad | 1956 |
| Best Custom Car | 121 | Jerry Plyman | Chevy Camaro 2SS | 2018 |
| Best Custom Truck | 229 | Gregg Volkmer | Chevy Truck | 1985 |
| Best Stock Car | 162 | Dave Long | Mercury Voyager Wagon | 1958 |
| Best Stock Truck | 176 | Eric Hamre | Ford Model A Pickup | 1931 |
| Best Classic Car | 175 | Lorraine Hamre | Chevy Corvette | 1969 |
| Best Classic Truck | 143 | Gary Ellis | Ford F100 | 1954 |
| Best Modern Car | 125 | Denis Smith | Dodge Destroyer | 2017 |
| Best Modern Truck | 122 | Mike Smith | Ford Shelby Super Baja | 2021 |
In addition to the amazing cars we also had scrumptious food on hand from:
Joe Gotchy took some great photos at the car show, you can view them on the FHM's Facebook page or on Joe's:
We look forward to seeing everyone at next year's show, which will be Sunday June 25, 2023.
Thank you to our sponsors
Join us at Dacca Park on Sunday June 26th for the 14th Annual Fife Community Car Show.  This event supports the operations of the Fife Historical Society and the Fife History Museum (a 501c3).  Come and check out the cars and the museum.
There will be food, vendors, music, raffles and awards.
Admission is free to the public.
Car entries are $20 for pre-registration and $25 day of the event. Visit our event page for Pre-Registration. or click here to download a registration form to mail in with a check payable to the Fife Historical Society. If you are mailing in a registration, please mail no later than June 17th to ensure that it arrives in time.
Roll-in opens at 7AM.  Dash plaques available for first 200 registrations and SWAG Bags.
Car Show is from 9AM to 2PM.
Food vendors are:
Awards will be:
Best in Show
People's Choice 1
People's Choice 2
History Museum Award
Fire Department Award
Police Department Award
Best Custom Vehicle
Best Stock Vehicle
Best Classic Truck
Best Modern Truck
Best Classic Car
Best Modern Car
Best Paint
Best Interior
Sponsorships
All sponsors will receive their business name or logo (size and placement based on sponsorship level) on: Banner, Posters, Communications, Social Media Posts, Registration Sheets. All sponsors are invited to provide item(s) for the SWAG Bags (200).
Headlining - $2,500: Headliner logo placement, 1 vendor space and 4 car show registrations.
Gold Sponsor - $1,000: Large logo in sponsor section, 1 vendor space and 3 car show registrations.
Silver Sponsor - $750: Medium logo in sponsor section, 1 vendor space and 2 car show registrations.
Bronze Sponsor - $500: Small logo in sponsor section, 1 vendor space and 1 car show registrations.
Supporting Sponsor - $150:  Name in sponsor section, 1 vendor space
Vendors
Vendors may combine with a sponsorship level for increased exposure. Vendor will receive a 10x10 space, or space for food truck. Vendors must be self-contained. FHS does not provide any electricity, wifi or supplies. Vendors need to provide all information and requested documentation on the vendor application.
Retail Vendor - $25
Non-profit Vendor - $15
If you have any questions or would like additional information, please contact us via email at: FifeHistoryMuseum1957@gmail.com or via phone: 253-896-4710
By completing your purchase you agree to our Required Waiver of Liability, Release, and Payment Information: On behalf of the entire group participating in the 2022 Fife Community Car Show, I assume all risk of bodily injury, property damage, and personal damage that may occur by participating in the Fife Community Car Show and, for myself/ourselves, their heirs, executors, and administrators, do hereby forever waive and release any and all claims against and agree to hold harmless the Fife Historical Society, City of Fife, the Fife Community Car Show (its committee, sponsors, and volunteers, and the Fife Historical Society with its respective officers, employees, agents, representatives, volunteers, successors) or assigns of any kind from any and all claims which may be made for any cause whatsoever arising as a result of participation. Further, I hereby consent to allow my picture or likeness to appear in any official document, news release, sponsor advertisement and/or television and radio coverage of the events within or as part of the Fife Community Car Show, and grant permission to use and/or publish photographic portraits, or pictures, video tape or film of me and/or my vehicle in which I may be included in whole, part, composite or reproductions thereof in black and white and/or color or otherwise made through any media now known, for art, advertising trade or any other similar lawful purposes whatsoever, including the publicity and promotion of this event itself, excluding commercial use of or by marketing sponsors.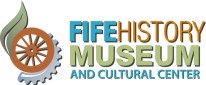 FIFE HISTORY MUSEUM & CULTURAL CENTER
2820 54th Avenue East, A
Fife, Washington 98424