The mission of the Fife History Museum and Cultural Center is to ensure that the history of Fife and the surrounding area is kept alive and made accessible for present and future generations.  To fulfill our mission, the Fife Historical Society collects, preserves, interprets, publishes and displays materials about the Fife community, thus providing a valuable record of various histories of its people.  We are looking for individuals to join our team that are pasionate about history and want to have fun as we make it accessible for present and future generations.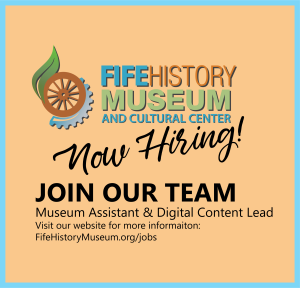 CURRENT OPENINGS:
Museum Assistant and Digital Content Lead
The position will be contracted to work 15 hours a week.  Initially, the position will work from the Fife History Museum 12 hours a week and 3 hours remote or at the Museum.  During hours at the Museum, the assistant will be the primary greeter with time available to work on digital content and other projects when attendance at the Museum is minimal.
Ideal candidates should have a strong understanding of social media platforms and trends and be able to create exciting and unique content that grows and strengthens the Museum's online presence and increases visitors to the Museum.  Specific assignments will vary based upon skill and experience level.  At a minimum, a high school degree is required.
PAY: $1,300 - $1,625 per month DOE on contact.
POSITION SUMMARY
This is an estimate of the duties to be included in the position.
Will staff the museum 12 hours a week.
Docent for visitors to the museum.
Assist in the creation and execution of social media campaigns.
Brainstorm and research ideas for original social media content.
Create social media content (posts, photos, videos, stories) that supports the FHS brand.
Maintain the FHS website.
Ongoing moderation of social media channels.
Assist in creation of marketing material for the museum.
Will attend and help with museum's major events which fall outside of the standard museum hours. (Car show, Holiday Open House, others as developed).
Other duties supporting the museum team as assigned.
IDEAL CANDIDATE
Knowledge of the latest trends, platforms and best practices for social media.
Experience creating a range of content for social media platforms.
Ability to take initiative and willingness to work independently.
Ability to organize time, follow directions and complete tasks in an effective manner.
Ability and willingness to interact with museum visitors in a professional manner.
Previous coursework/experience in social media marketing or digital marketing a plus.
Familiarity and comfort with Adobe Suite, Microsoft Office Suite, WordPress and Google preferred.
Notice: This is an independent contractor position.  It is the policy of the Fife Historical Society to background check staff and volunteers.
To apply please send your cover letter and resume to: FifeHistoryMuseum1957@gmail.com