Building Community Through Culture & History
The Fife History Museum and Cultural Center is located in the former home of Louis Dacca, a member of the original Fife City Council. The Dacca home and the adjacent portion of land the family once farmed were acquired by the City of Fife in 2000. This farmland is now the site of Dacca Park, and the home has been renovated to serve as the history museum, where the exhibits change on a regular basis.
~Museum admission is always free!~
Last day at the museum will be Friday, December 16, 2022 and re-open with NEW exhibits and events on March 13, 2023.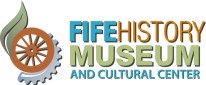 FIFE HISTORY MUSEUM & CULTURAL CENTER
2820 54th Avenue East, A
Fife, Washington 98424