2024 Fife Community Car Show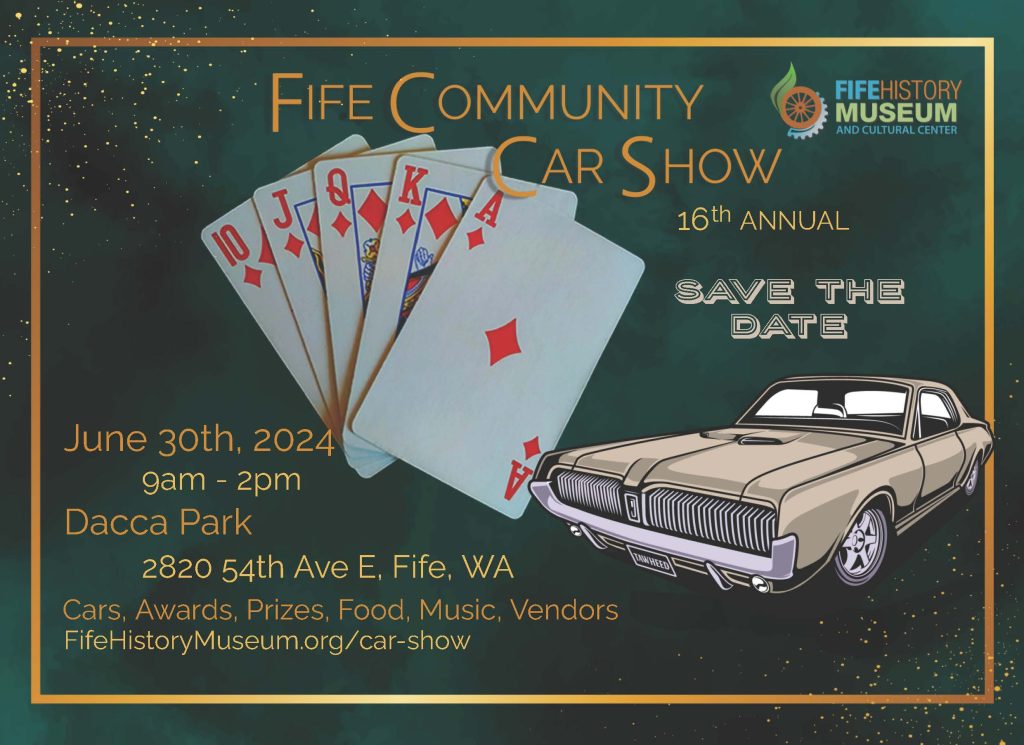 Join us at Dacca Park on the last Sunday in June the Annual Fife Community Car Show. This event supports the operations of the Fife Historical Society and the Fife History Museum. Come and check out the cars and the museum.
There will be food, vendors, music, raffles, and awards.
Admission is free to the public. Car entries are $20 for pre-registration and $25 day of the event.  You can pre-register on our event ticketing page, Coming Soon
Roll-in opens at 7AM. Dash plaques available for first 200 registrations.
Volunteer, sponsorship, and vendor opportunities are available.
Sponsorship can be paid for on on our event ticketing page, coming soon
You can also download our sponsorship overview, which also has instructions for becoming a sponsor.
Food Vendors:
• South Sound Hawaiian Shaved Ice
• Pop Kettle Corn
• Wandering Cowgirl Coffee
• and more to come.
Vendors to include
• Stripes and Things
• and more to come, if you are interested in being a vendor, please contact us at FifeHistoryMuseum1957@gmail.com
Awards:
Best of Show
People's Choice: 1, 2 & 3
Best Truck overall
Best Car overall
Museum Member Award
Fife High School Alumni Award
City Council Award
Mayor Award
Police Department Award
Fire Department Award
Car Club Award (most attended from one club)
Car Years: 30s&under, 40s, 50s, 60s, 70s, 80s & 90s, 2000+
If you are interested in volunteering or being a vendor, please contact us at: FifeHistoryMuseum1957@gmail.com.
Thank you for your support of the Annual Fife Community Car Show.  All proceeds from this event will benefit the Fife Historical Society and Cultural Center so that we may continue with our mission to ensure that the history of Fife and the surrounding area is kept alive and made accessible for present and future generations.
If you have any questions or would like additional information, please contact us via email at: FifeHistoryMuseum1957@gmail.com or via phone: 253-896-4710
By completing your purchase you agree to our Required Waiver of Liability, Release, and Payment Information: On behalf of the entire group participating in the 2022 Fife Community Car Show, I assume all risk of bodily injury, property damage, and personal damage that may occur by participating in the Fife Community Car Show and, for myself/ourselves, their heirs, executors, and administrators, do hereby forever waive and release any and all claims against and agree to hold harmless the Fife Historical Society, City of Fife, the Fife Community Car Show (its committee, sponsors, and volunteers, and the Fife Historical Society with its respective officers, employees, agents, representatives, volunteers, successors) or assigns of any kind from any and all claims which may be made for any cause whatsoever arising as a result of participation. Further, I hereby consent to allow my picture or likeness to appear in any official document, news release, sponsor advertisement and/or television and radio coverage of the events within or as part of the Fife Community Car Show, and grant permission to use and/or publish photographic portraits, or pictures, video tape or film of me and/or my vehicle in which I may be included in whole, part, composite or reproductions thereof in black and white and/or color or otherwise made through any media now known, for art, advertising trade or any other similar lawful purposes whatsoever, including the publicity and promotion of this event itself, excluding commercial use of or by marketing sponsors.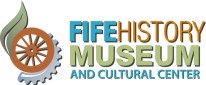 FIFE HISTORY MUSEUM & CULTURAL CENTER
2820 54th Avenue East, A
Fife, Washington 98424