Mission
The mission of the Fife Historical Society is to ensure that the history of Fife and the surrounding area is kept alive and made accessible for present and future generations.
To fulfill our mission, the Society collects, preserves, interprets, publishes and exhibits materials about Fife, thus providing a valuable record of various histories of its people.
The Fife Historical Society is a 501(c)3 non-profit organization.
History
The Fife Historical Society was founded in 2000 following a donation made by the Dacca family to the city of Fife with the intention of creating a museum.
Board of Directors
Frank Dacca, President & Secretary
Julie Vraves Anderson, Vice President
Kevin Ringus, Treasurer
Board Members
Ron Hopkins
Mike Kelley
Paul Norby
Agnes Thomsen
Terri Walsh
Pat Hulcey,  Fife City Liaison
Staff
Stacy Call - Museum Manager
Karyn Siegrist - Historical Society Administrator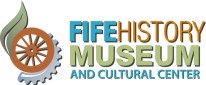 FIFE HISTORY MUSEUM & CULTURAL CENTER
2820 54th Avenue East, A
Fife, Washington 98424