Membership Benefits
Eligibility to serve on Advisory Committees
Exclusive invitations to "members only" special events and activities
Gift Shop Discount: 20%
Discounted pricing for select events
Special recognition awarded to patrons and benefactors of local and regional history
Educational and community programs, events, and activities; exploration of family history/genealogy; involvement in historical research, interpretation and display; hands-on children's experiences
The knowledge and good will of knowing that you are a part of the preservation and portrayal of Fife's unique cultural history
Contact the Fife History Museum for further membership information at 253.896.4710 or visit the museum.
How Can You Help?
Become an active Society Member
Serve on a Museum Advisory Committee
Volunteer as a docent and tour guide
Organize and promote community programs
Participate in museum marketing
Interview and record oral histories
Help plan and/or build exhibits
Join the fundraising efforts
Assist with clerical tasks
Donate artifacts, photos, documents & memorabilia
Recruit New Members

The Fife Historical Society is now part of the North American Reciprocal Museums Association.  This means that any FHS member at a Patron level or above also includes a membership to NARM and the benefits of the reciprocal program.
NARM guest benefits: NARM members receive 20% Gift Shop Discount, discounted pricing for select events, and are able to attend members only events.
Please Join Us!
Becoming a member of the Fife Historical Society is affordable and a fantastic way to help support the preservation and portrayal of Fife's unique and complex cultural history. Special recognition is awarded to patrons and benefactors of local and regional history.
We encourage the exploration of family history/genealogy; dive into historical research and interpretation of historical material in our collection of over 1800 artifacts. We provide educational and community programs, events, and activities; including hands-on children's experiences. Whether your family has been here for decades or you just arrived, all are welcome through our doors to enjoy what we have to offer.
VISION STATEMENT
"Building Community through History"
| | |
| --- | --- |
| Categories | Annual Fee |
| Patron Member (NARM) | $100+ |
| Business (NARM) | $100 |
| Corporation (NARM) | $250 |
| Family | $35 |
| Individual | $20 |
| Senior Citizen | $15 |
| Student | $10 |
mission statement
The mission of the Fife Historical Society is to ensure that the history of Fife and the surrounding area is kept alive and made accessible for present and future generations.
To fulfill our mission, the Society collects, preserves, interprets, publishes and exhibits materials about Fife, thus providing a valuable record of the various histories of its people.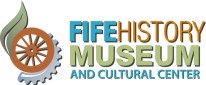 FIFE HISTORY MUSEUM & CULTURAL CENTER
2820 54th Avenue East, A
Fife, Washington 98424